My wife,
Erin Rhew
, and I headed back to her Southern roots a couple of weeks ago. We've flown before when we traveled east to visit family and friends and also driven the 3500 miles across our great nation. This time around, we decided to take the train. 150 years ago, after the wagons rolled in, the west flourished because of the railroad, so riding the iron pony is somewhere deep in my blood. Plus it allowed me to telework while we traveled, giving me the prettiest moving office eva!
Since we had a layover in Washington DC, we decided to see a few of the sights. I've never been, so I was uber excited. Erin said I was grinning like a cheese monkey as we rolled into the nation's capital.
We could have spent several weeks browsing through the Smithsonian, touring the capital, visiting the Holocaust, Natural History, and Spy museums (all but the spy museum are free). But since our time was very limited, we picked just a few. Top of the list for me:
Arlington National Cemetery
.
You can study maps of the 624 acres, read statistics--over 400,000 graves, learn the history--in 1864, 21-year-old William Christman became the first person buried there, but you cannot possibly fathom Arlington until you see it firsthand. Even then it leaves you spellbound.
What is difficult to grasp from any picture is the enormity of the cemetery. When you enter, there are headstones as far as the eye can see. Then you stare, shift your gaze a bit, and realize you can see through the trees. The graves continue keep going and going. Over the hills on and on.
Each stone marker is a life dedicated to our country. So many...while I was gazing over this sea of white, the impact of the sacrifice so many have made began to impact me. It is humbling, overwhelming, and incomprehensible. So many people have given so much. This is the ultimate price of our freedom.
But it doesn't stop there. As we toured the monuments, gazed upon JFK's Eternal Flame, and climbed the hill to look down upon the Washington Monument and Pentagon, it occurred to me that this is only a fraction of the men and women that have sacrificed all for us. Only a small percentage of our soldiers are buried here. Millions have died and been wounded fighting and are at rest elsewhere.
But it still doesn't stop there. Millions and millions of soldiers who haven't been injured have spent months and years of their lives away from their families. Time is our most precious commodity, and these people have given and given for our freedom.
I tried to capture a fraction of the view from within the cemetery, which is very quiet out of respect for our fallen soldiers.
Arlington Cemetery
Arlington Cemetery
Arlington Cemetery
John and Jackie Kennedy's Graves
Bobby Kennedy's Grave
We got to see the changing of the guard. It is a beautiful, regal ceremony. Formal and military-precise, it made me proud of our soldiers and humbled to get to watch it. I'm going write another blog about just this ceremony.
Guard at the Tomb of the Unknown Soldier
My dad spent his career serving our country. The pay was mediocre--my parents are anything but rich--the hours were long, and the accolades few and far between, but I am beyond proud of my father. He served with honor, both as a soldier and as a role model.
My father, Jay
I come from a long line of military men, here are few from the family.
My grandfather, Jay
My uncle, Larry
My cousin, David
My uncle, Bill
My grandfather, Virgil
My father-in-law, Bob
Despite the massive amount of media coverage, I believe that we citizens are ignorant of most of the really important facts in the world. Erin and I watched "13 Days," which depicts the events of the Cuban missile crisis. In the movie, JFK addresses the nation about the our country potentially going to war. It was a close call. Russia and the U.S. were on the brink of nuclear disaster but we, as a nation, didn't know about it until many days into the ordeal.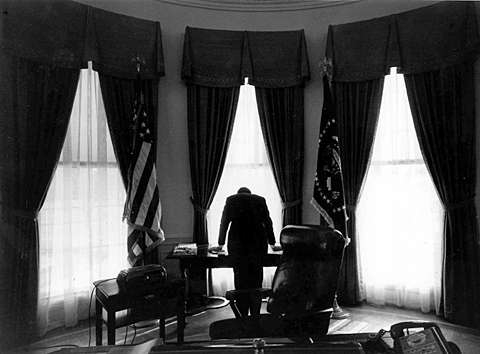 JFK during the Cuban Missile Crisis
I believe there are hundreds of such close calls that we never know about--that the people in charge have all the information, supplied to them by the brightest and most dedicated. They are making decisions that, without this information, seem less than smart. As politically unpopular as it may be, I trust the checks and balances of our country to keep us safe and send our military where it needs to be sent. The people lying in rest at Arlington didn't sacrifice all without serious consideration and without our leaders exhausting all peaceful options.
I sleep well at night knowing that our military, from the entry-level privates up to the commander-in-chief, are doing what needs to be done to keep us safe. To all of these people, I offer my humblest gratitude.
Until next time!